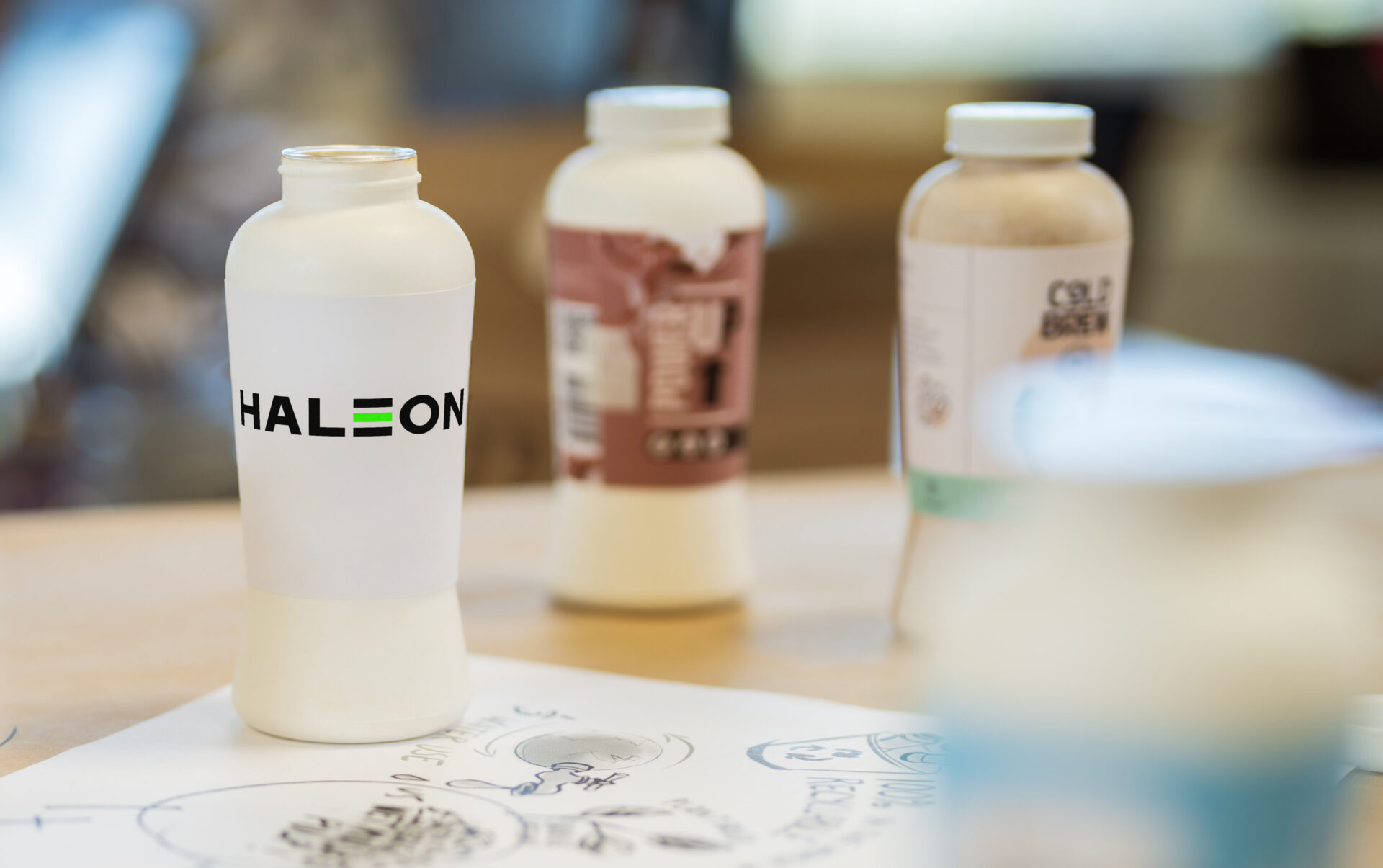 Sanofi and Haleon join the Bottle Collective
The Bottle Collective's mission is to tackle single-use plastic waste by industrializing a recyclable high-speed, low-cost Dry Molded Fiber bottle process.
Sanofi and Haleon join the Bottle Collective to help tackle single-use plastic waste
PA Consulting (PA), the global company bringing ingenuity to life, and PulPac, the Swedish R&D and IP company behind Dry Molded Fiber technology, are pleased to welcome global consumer health companies Sanofi and Haleon to the Bottle Collective. Both companies will be working with the Bottle Collective to explore the feasibility and co-development of cellulose-based technologies as alternatives to virgin petroleum based plastics for the packaging of consumer health products.
The Bottle Collective's mission is to industrialize a recyclable high-speed, low-cost Dry Molded Fiber bottle process. This will empower large scale production of branded alternatives to single-use and commodity plastic bottles. PA and PulPac have already developed the first functioning prototypes.
Partnerships with global brands across industries are critical to deliver real impact.
— Tony Perrotta, PulPac Partnership Lead at PA Consulting
Tony Perrotta, PulPac Partnership Lead at PA Consulting, said: "We are proud to welcome Sanofi and Haleon to the Bottle Collective. We are focused on accelerating progress towards a recyclable alternative to single-use plastic bottles. Partnerships with global brands across industries are critical to deliver real impact. Sanofi and Haleon are committed to environmental action and we welcome their vast knowledge to help further our collective mission."
Sanna Fager, Chief Commercial Officer at PulPac, said: "The Dry Molded Fiber technology is versatile and enables the production of pretty much any rigid, three-dimensional object you can think up, including bottles. We have created the technology to shape, add graphics, deboss, emboss, and choose colors, patterns, and prints to elevate brands. But time is running short, and we need committed changemakers like Sanofi and Haleon that take action and lead the way toward the sustainable packaging alternatives that the world and the industry desperately need."
France Depaix, Global Head of Design, Product Sustainability and Packaging Innovation at Consumer Healthcare at Sanofi, said: "We're acutely aware of our responsibility to contribute towards a healthier society and planet, whilst enabling people to take better care of their own health. We are taking action to reduce waste and increase recyclability across our business and the wider industry, and a key part of this includes collaborating with partners. Initiatives like the Bottle Collective provide a real opportunity to work together across industries and forge unique partnerships which have the potential to accelerate innovations in packaging and help to tackle the global plastic waste issue."
Alex James Orchard, Head of R&D Packaging at Haleon, said: "We're aiming to create a future for consumer health product packaging which is more sustainable and more inclusive. Joining the Bottle Collective as a founding member is one of several exciting partnerships that we are forging to strengthen our sustainable packaging innovation program. This includes taking on bold development challenges on alternative materials and technologies that help drive the circular model. By partnering and collaborating in new ways, we will enable Haleon and the wider industry to accelerate the adoption of new packaging solutions that are responsibly designed and fit-for-purpose for the next generation."
Click here to learn more about the Bottle Collective from PA and PulPac.
---
About PulPac
PulPac provides the packaging industry with a groundbreaking manufacturing technology for the making of economical, high-performance fiber-based packaging and single-use products. By pioneering the technology of cellulose molding, PulPac enables its customers to replace single-use plastics with sustainable and cost-competitive natural fiber alternatives globally. For additional information about PulPac, please visit www.pulpac.com or follow us on social media.
About PA Consulting
We believe in the power of ingenuity to build a positive human future. As strategies, technologies, and innovation collide, we create opportunity from complexity. Our diverse teams of experts combine innovative thinking and breakthrough technologies to progress further, faster. Our clients adapt and transform, and together we achieve enduring results. We are over 4,000 strategists, innovators, designers, consultants, digital experts, scientists, engineers, and technologists. And we have deep expertise in consumer and manufacturing, defence and security, energy and utilities, financial services, government and public services, health and life sciences, and transport. Our teams operate globally from offices across the UK, Ireland, US, Nordics, and Netherlands. Discover more at paconsulting.com and connect with PA on LinkedIn and Twitter. PA. Bringing Ingenuity to Life.
About Sanofi
We are an innovative global healthcare company, driven by one purpose: we chase the miracles of science to improve people's lives. Our team, across some 100 countries, is dedicated to transforming the practice of medicine by working to turn the impossible into the possible. We provide potentially life-changing treatment options and life-saving vaccine protection to millions of people globally, while putting sustainability and social responsibility at the center of our ambitions.
Sanofi is listed on EURONEXT: SAN and NASDAQ: SNY
About Haleon
Haleon (LSE / NYSE: HLN) is a global leader in consumer health, with a purpose to deliver better everyday health with humanity. Haleon's product portfolio spans five major categories – Oral Health, Pain Relief, Respiratory Health, Digestive Health and Other, and Vitamins, Minerals and Supplements (VMS). Its long-standing brands – such as Advil, Sensodyne, Panadol, Voltaren, Theraflu, Otrivin, Polident, parodontax and Centrum – are built on trusted science, innovation and deep human understanding. For more information, please visit www.haleon.com.