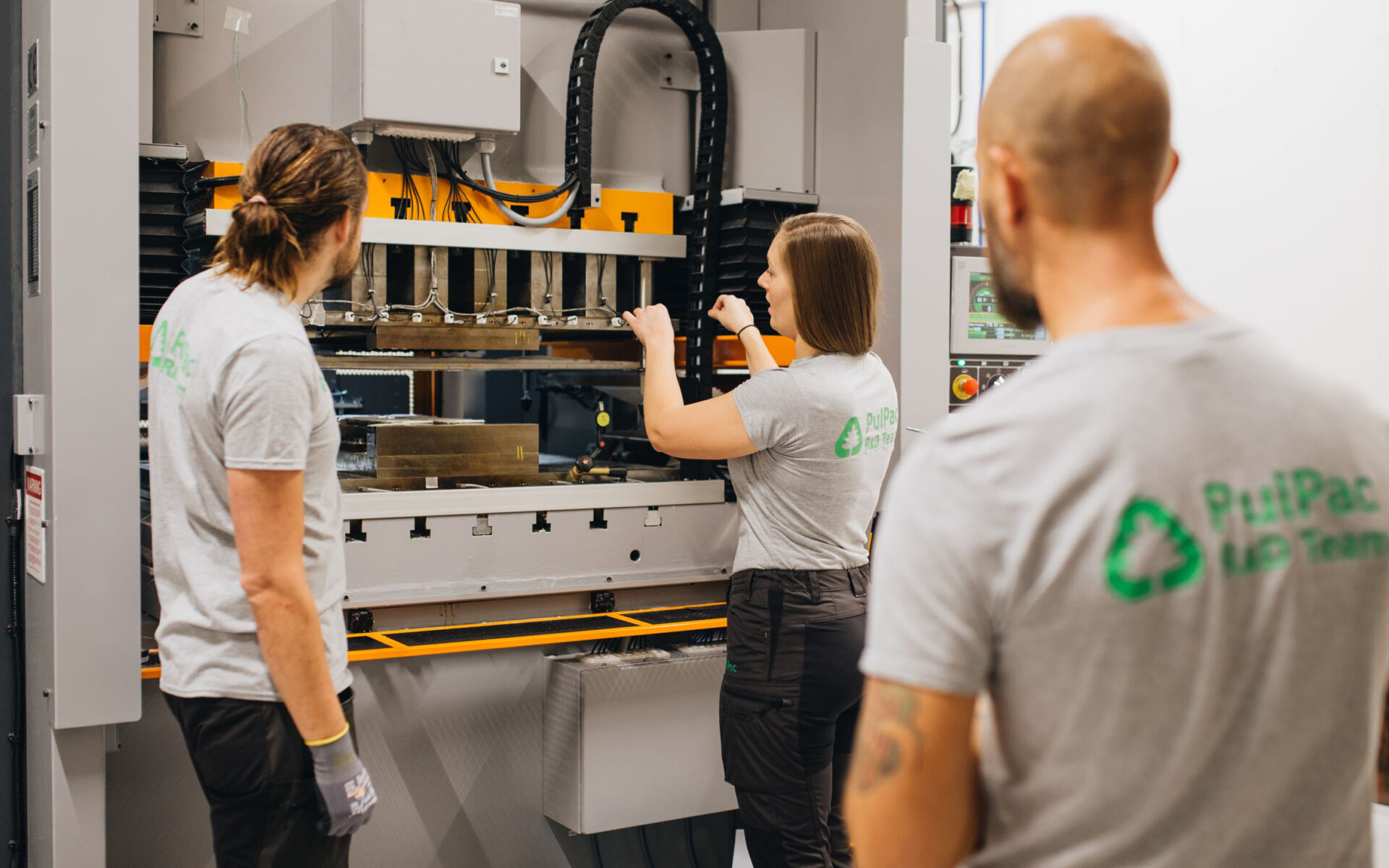 Notice of allowance for Dry Molded Fiber patent covering blow-molding
The US Patent Office has issued a notice of allowance regarding a Dry Molded Fiber patent application that relates to blow-molding and manufacturing bottles. 
PulPac's global IP portfolio for Dry Molded Fiber is expanding rapidly
PulPac's IP portfolio now covers key global markets with 84 national grants and hundreds more in pending applications. Most recent, the US Patent Office issued a notice of allowance regarding one of PulPac's first patent applications (US16/085456). It concerns PulPac's Dry Molded Fiber technology and is especially suitable for blow-molding and manufacturing bottles. 
PulPac's business model is based on cooperation within an IP- and technology-pool with partner companies that share PulPac's holistic view on sustainability and efficient use of resources.
PulPac today holds 26 patent families (17 not yet published) with 84 granted national patents, and plus 50 pending patent applications that give a potential of hundreds more national patents. Eight new patent applications have been filed the past six months and filing pace is expected to increase further. Going forward, an average of two new patent applications are expected to be filed every month.
Peter Ekwall, Chief Intellectual Property Officer at PulPac, comments; "Our public IP is just the tip of the iceberg. Underneath is an extensive body of confidential patent applications, world-leading know-how and trade secrets that are only shared with partners within our pool. This is a model that gives our partners an unmatched competitive advantage, and an incentive for making the shift to fiber – and away from plastics."
The IP portfolio revolves around the novel production method, "PulPac's Dry Moded Fiber method", a method of manufacturing three dimensionally shaped cellulose articles formed from dry fibers with air as a carrying medium and pressed using a heated mold.
Based on the core IP, PulPac has developed a complete technology platform covering multiple areas of fiber application manufacturing and machinery solutions to match. Blow Molded Fibers is one upcoming competitive application for Dry Molded Fibers suitable for manufacturing of e.g., bottles and caps, all driven by the need of disruptive technical solutions that enable a sustainable packaging industry. As the the technology owner and world leader in R&D for Dry Molded Fiber, PulPac continuously files new IP derived from own R&D – but also from R&D emanating from PulPac's technology pool and its partners.
PulPac's development and innovation partner PA Consulting, the consultancy that's bringing ingenuity to life, is an important contributor of IP and to-date has been involved in a number of patent applications and innovative ideas. There is even more IP, created by licensees and partners in the technology pool.
Besides new patent applications, PulPac has filed 13 divisional applications stemming from PulPac's early and broadly described patent applications and directed towards specific solutions within the Dry Molded Fiber technology.
Media contacts:
Peter Ekwall, Chief Intellectual Property Officer; peter.ekwall@pulpac.com
Ann Dynehäll, Chief Communications Officer, PulPac; ann.dynehall@pulpac.com
---
About PulPac
We are the inventors of Dry Molded Fiber. Our groundbreaking technology helps producers within the packaging industry to swiftly transition toward circularity. With our cost-competitive, fiber-based alternative, they meet the market and planet's needs for responsibly produced packaging but also gain leverage by spearheading the industry. With a global partner network, we build a community to ensure we reach our goal of making Dry Molded Fiber the new standard.
About Dry Molded Fiber
A brilliantly simple solution for packaging producers to meet the market's and planet's needs for responsibly produced packaging. Dry Molded Fiber enables a swift transition towards circularity, with a cost-competitive, fiber-based alternative. Turns ordinary pulp into any rigid, three dimensional product, using almost no water. And it's fast!
About PA
We believe in the power of ingenuity to build a positive human future. As strategies, technologies and innovation collide, we create opportunity from complexity. Our diverse teams of experts combine innovative thinking and breakthrough use of technologies to progress further, faster. Our clients adapt and transform, and together we achieve enduring results. An innovation and transformation consultancy, we are over 4000 specialists in consumer and manufacturing, defence and security, energy and utilities, financial services, government and public services, health and life sciences, and transport. Our people are strategists, innovators, designers, consultants, digital experts, scientists, engineers and technologists.