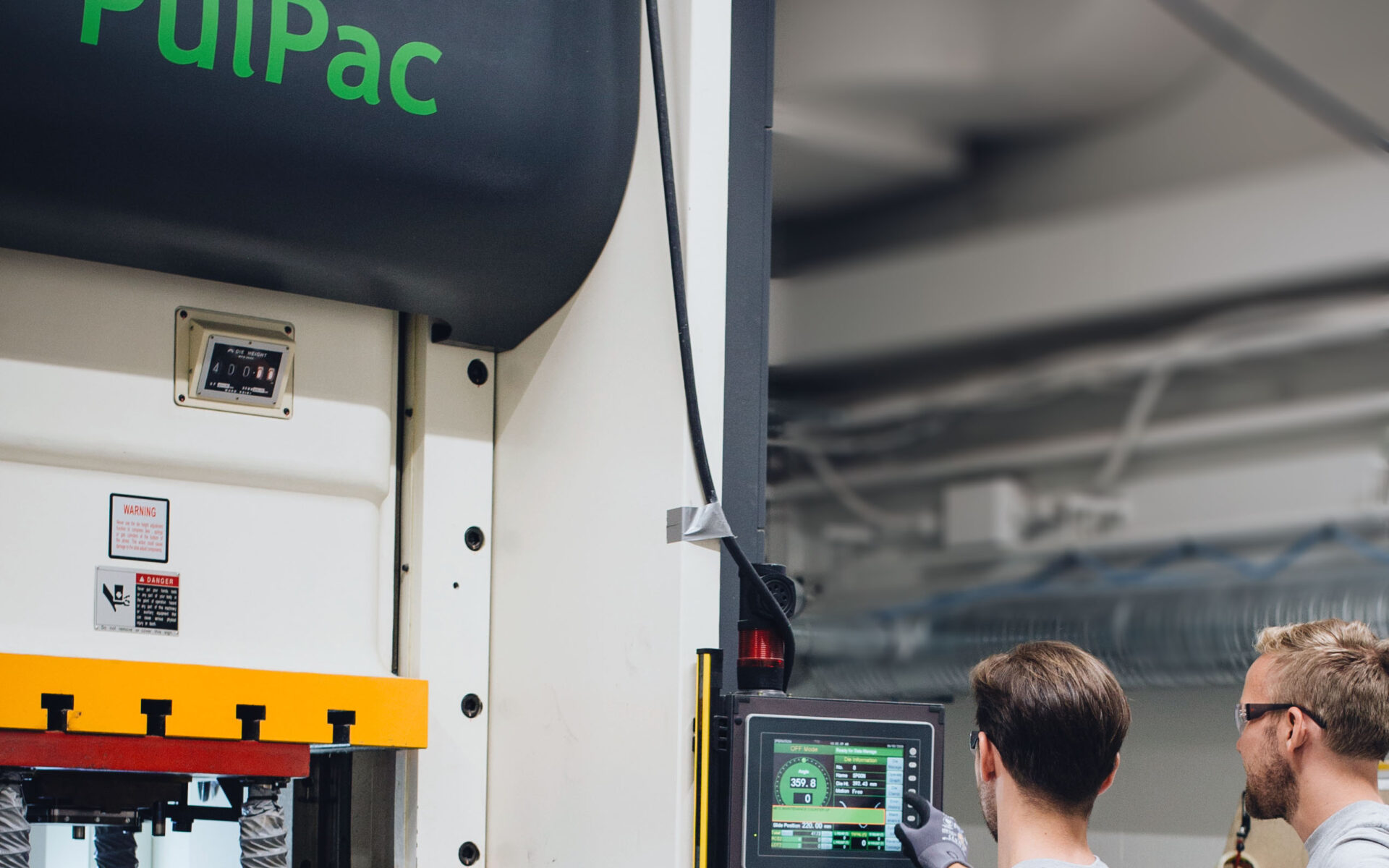 SEYI joins the Dry Molded Fiber network
PulPac and SEYI join forces in combining servo press technologies into Dry Molded Fiber to replace plastics with sustainable and affordable fiber products
PulPac and SEYI join forces in combining servo press technologies into Dry Molded Fiber to replace plastics with sustainable and affordable fiber products
The collaboration will combine SEYI's proprietary servo pressing technologies, with their unmatched efficiency and production speed, with the Dry Molded Fiber process.
The Dry Molded Fiber-presses will be adapted for packaging and ready for food-grade production.
PulPac's "Dry Molded Fiber" is a patented manufacturing technology for the circular economy – using renewable pulp and cellulose resources to produce low cost, high performance, fiber-based packaging, and single-use products. Dry Molded Fiber gives up to 80-90% lower CO2 footprint at the same or lower cost as plastic.
Thanks to in-house developed servo motors, SEYI's energy-efficient servo presses assist PulPac to realize its novel manufacturing process for dry molding of cellulose fibers with high output and low energy consumption.
"It's our great pleasure to work with PulPac, a creative pioneer in the sustainable packaging field, who chose SEYI's servo presses to fulfill their need for innovative stamping technology for forming eco-friendly materials", says Steven Lee, Spokesman at SEYI.
Compared to a traditional press, SEYI's servo presses can save at least one-third of power required in operation. Besides lower energy costs the environmental footprint is greatly improved.
"After implementing servo presses, we are very impressed with the benefits such as the higher throughput, low energy requirement, the better quality of products, and especially the much lower tool wear rate", says Ove Larsson, founder and Chief Technology Officer at PulPac.
Like PulPac, SEYI is committed to bring sustainable solutions to the market and will continue cooperating with PulPac closely to develop technologies and products together.
Media Contacts:
Steven Lee, SEYI Spokesman, stevencw.lee@seyi.com, +886-3-352-5466
Linus Larsson, PulPac CEO, linus.larsson@pulpac.com, +46 (0)721 798 918
---
About SEYI
Shieh Yih Machinery Industry Co., Ltd. (SEYI), with nearly 60 years of experience, is a Taiwanese leading solution provider of mechanical and servo presses from small to large tonnage, with products delivered to more than 40 countries. www.seyi.com