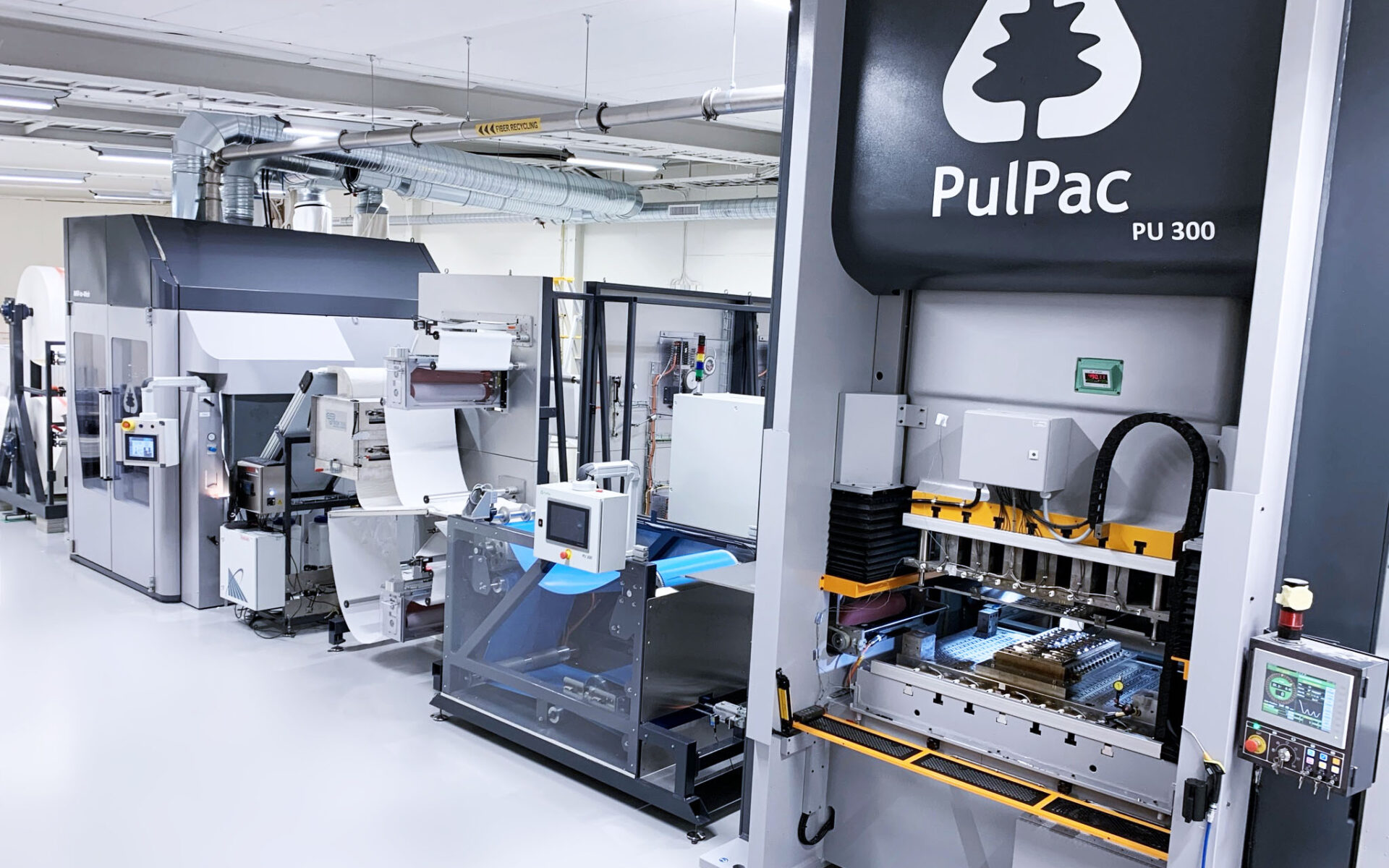 World's first standardized Dry Molded Fiber production unit
The PulPac Modula (PU300) is engineered as a modular industrial production line, ready for food grade production of high volume and affordable Dry Molded Fiber products.
PulPac takes a big step towards global scaling of Dry Molded Fiber – Reveals world's first standardized production unit
Following the accelerating progress of the Dry Molded Fiber technology and great interest from the industry, PulPac, together with partners now reveals a standardized production line – the PulPac Modula Production Unit 300 ton (PU300). Shifting from plastic converting or traditional fiber molding to Dry Molded Fiber is easier than ever, and even more attractive for the converters and brands that wish to be leaders in the race for sustainable packaging.
The PulPac Modula (PU300) is engineered as a modular industrial production line, ready for food grade production of high volume and affordable Dry Molded Fiber products. The very first demonstration line has been set up in PulPac's Tech Center in Sweden, where industrial food grade manufacturing of sustainable spoons made of pure cellulose fibers has begun. Starting annual capacity is 230 million spoons. Single-use cutlery is a very interesting segment with billions of units demanded each year, and especially given the EU-wide ban on non-sustainable plastic cutlery coming to effect July 1st this year.
"The versatility, cost structure and market readiness of Dry Molded Fiber opens exciting opportunities for both fiber and plastic converters. In a few years, it will be possible to manufacture Dry Molded Fiber bottles and other complex products. But already today you can commercialize affordable high-volume products like spoons, trays, lids, bowls, – paper products that can hold grease and water without toxic chemicals – which are all ready for production with the PulPac Modula (PU300) platform,"
— says Sanna Fager, Chief Commercial Officer at PulPac
The dry process enables the PulPac Modula (PU300) to run extremely fast. Cycle time and production rates is on par with plastic manufacturing, and up to ten times faster than conventional fiber molding. Furthermore, Dry Molding does not waste valuable water resources nor impact the wastewater infrastructure. The process is much more energy-efficient than conventional fiber molding and enables material efficiency of up to 99% with in-line recycling. In summary, these process advantages yield up to 90% lower CO2 emissions at similar unit costs as plastic.
"The PulPac Modula (PU300) machine platform is a milestone for making affordable fiber-based packaging globally available. To meet the massive interest from brands and converters, we are now scaling supply chains by building a global community of world leading Dry Molded Fiber suppliers. We welcome converters, machine builders, brands and fiber providers to join us and transform the industry from within. Simplifying the transition and support our clients to get going with their own Dry Molded Fiber manufacturing is core priority in order to reach our goal of replacing +1 million tons of plastic by 2025," says Linus Larsson, CEO and Co-founder.
Many global brands and leading packaging manufacturers are already taking their operations to the forefront, together with PulPac and its partners. The first Dry Molded Fiber products will reach the market in a variety of segments this year.
About the PulPac Modula (PU300)
The PulPac Modula (PU300) is based on well-proven technologies and systems. The material used for production is regular pulp, cellulose fiber, a commodity item that is globally available.
In the PulPac Modula (PU300), a mill breaks up the pulp into separate fibers. These fibers are airlaid to a vacuum belt, forming a fluffy fiber web that is coated with non-toxic barrier additives and laminated with tissue. Thereafter, an electric servo press with a 300 tons force, customized for food grade production, molds the products with 0,2 seconds holding time enabling a production cycle of 3,5 seconds. All non-used material is re-circulated, giving close to complete material efficiency.
The PulPac Modula (PU300) has been developed in close cooperation with Taiwanese servo press specialist SEYI, Danish airlaid production specialists Dan-Web and Swedish leading system integrator TechTribe – partnerships that was announced earlier this year.
Media contacts:

Sanna Fager, Chief Commercial Officer, sanna.fager@pulpac.com
Linus Larsson, PulPac CEO, linus.larsson@pulpac.com