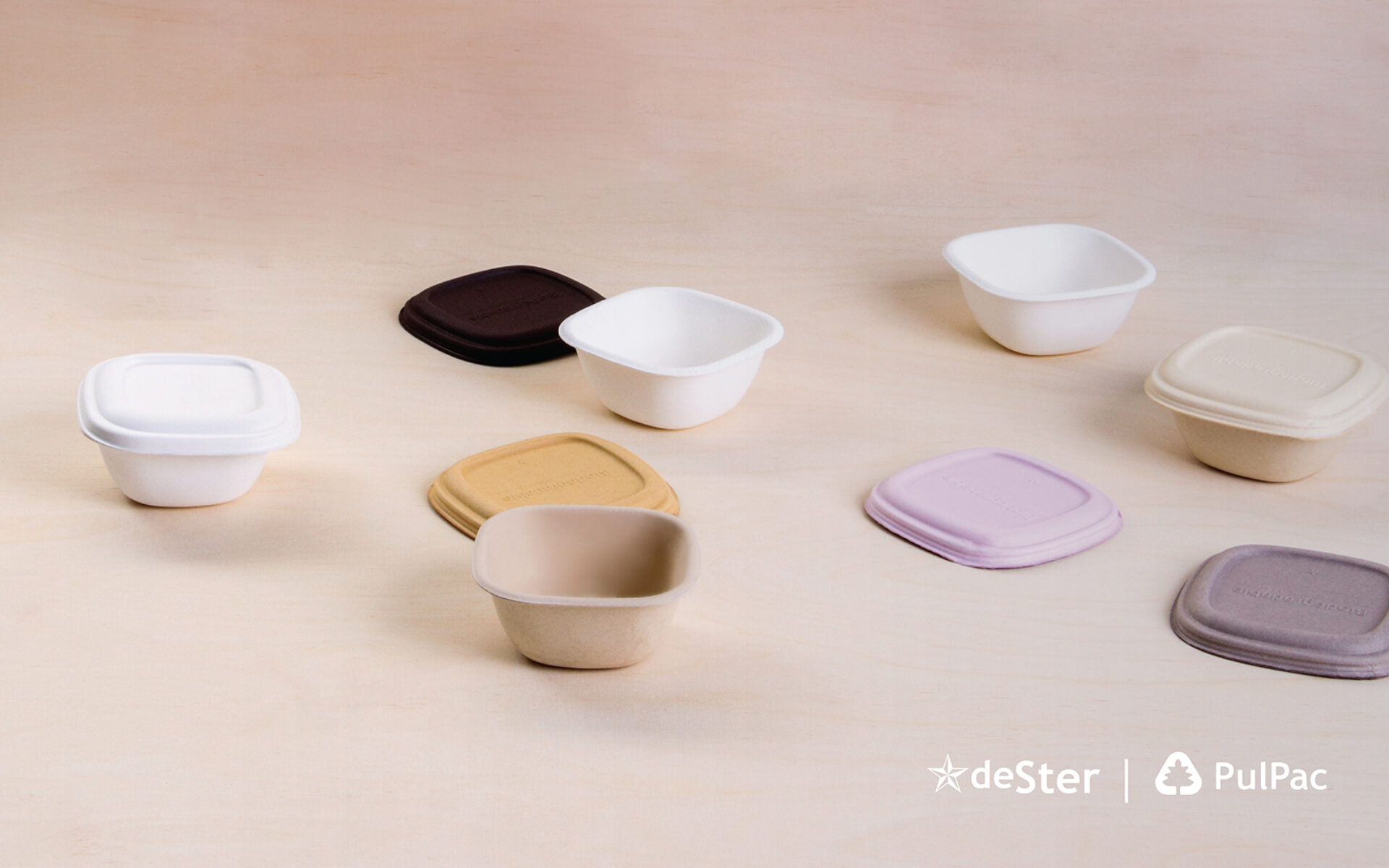 deSter enters Strategic Partnership with PulPac
Gategroup company deSter and PulPac will focus on developing and manufacturing fiber-based, single-use food packaging products for the airline and food service industries.
deSter enters Strategic Partnership with PulPac
deSter will manufacture fiber-based alternative to single-use-plastic
Renewable and cost-effective material, recyclable and naturally compostable
As part of its Environmentally Conscious Design (ECD) philosophy, gategroup company deSter has entered a strategic partnership with PulPac, a Swedish Research & Development and Intellectual Property company. Together they will focus on the development and manufacturing of fiber-based, single-use food packaging products for the airline and food service industries.
By working with PulPac and its new production technology, deSter will accelerate the development of naturally compostable fiber-based products. This will enable deSter to extend its portfolio of sustainable food packaging and service solutions.
PulPac's Dry Molded Fiber technology is an innovative technology that can be used to manufacture almost any type of packaging and disposable item presently made of plastic.
The new partnership will cover airline industry equipment solutions as well as selected food service accounts. In support of this deSter is currently deploying a multi-million-Euro investment in new machinery in order to use this cutting-edge technology and base production close to its customers.  The innovative nature of this sustainable technology allowed deSter to be awarded a major development grant from the Flemish Government.
deSter's solutions produced using the PulPac technology will be made from renewable, locally sourced Forest Stewardship Council (FSC) certified materials. Items produced using this method can be recycled through normal recycling streams and are biodegradable under natural conditions without the need for commercial composting.
An important environmental advantage of PulPac's patented technology is that, in comparison to the traditional wet molded technologies used to produce for example sugar cane waste items, no water is used during production.
Manufacturing facilities in Europe, Asia and the US will enable deSter to near-source all items.
"Our customers are demanding sustainable packaging solutions.  As a result, we are making substantial investments in new production methodologies in order to create truly sustainable products, which meet their needs. Developing this technology is a key focus area for deSter to ensure we provide our customers with future-proof solutions that not only deliver for today's requirements, but also anticipate the needs of tomorrow," said Stef Van de Perre, Managing Director deSter.
"Local production facilities will ensure we are able to produce in proximity to all of our core markets. We will be able to minimize transportation which in turn will also significantly reduce our own carbon footprint," Van de Perre continues.
"At PulPac it's our vision to make impact at scale by supplying the industry with disruptive technologies for replacing plastics in packaging and disposables. The new-found partnership with deSter greatly adds to achieving this objective, looking at the magnitude and global scale of its operations in addition to its unique in-house design, engineering and manufacturing capabilities," says Linus Larsson, Chief Executive Officer PulPac.
This new and fully biodegradable solution is in line with deSter's ECD design philosophy. ECD stands for "Environmentally Conscious Design" and encompasses all the company's actions towards developing sustainable products in line with the circular economy principle.
Environmentally Conscious Design: https://environmentallyconsciousdesign.com/
Media inquiries:
Johannes Hein johannes.hein@spiriant.com
Linus Larsson, CEO, linus.larsson@pulpac.com
Ann Dynehäll, Communications, ann.dynehall@pulpac.com
---
About gategroup
gategroup is the global leader in airline catering, retail-on-board and hospitality products and services. gategroup provides passengers with superior culinary and retail experiences, leveraging innovation and advanced technology solutions. Headquartered in Zurich, Switzerland, gategroup delivers operational excellence through the most extensive catering network in the aviation industry, serving more than 700 million passengers annually from over 200 operating units in over 60 countries/territories across all continents. In 2018, gategroup reached CHF 4.9 billion in revenues generated by approximately 43,000 employees worldwide. For further information, please visit www.gategroup.com
About deSter
deSter, a gategroup member, is a leading provider of innovative and sustainable food packaging and serviceware concepts to the aviation, hospitality and food service industry. The company combines over 40 years of manufacturing expertise with the latest developments in product design. deSter has production units in Hoogstraten (BE), Lima (US) and Prachinburi (TH), in addition to global sales offices. www.dester.com